Ningbo Xiaoshi High School
Situated in Ningbo, a coastal city in southeastern Zhejiang province, Ningbo Xiaoshi High School was founded as a private school in 1912. It is viewed as a top school in the city. 
About the international center 
The international center gained authorization to run the International Baccalaureate Diploma Program in 2013 and its opening was regarded as a major part of the 100 year anniversary celebrations of Xiaoshi High School.
Inquiry-based learning is used as much as possible and students are encouraged to be reflective learners. Center teacher also prepare students for a western-style of education at university level.
Students in the center work hard, are very ambitious, polite and engaged in class. They are extremely smart and motivated, who are not satisfied with less than their very best effort.
Center facilities include well-equipped science laboratories, classrooms with Smart Boards, teacher staff rooms, a computer suite, an international resource center, a gym and excellent outdoor basketball courts and athletics track.
Extracurricular activities are shared with the host school and include basketball, chess, Scrabble club, debating club and volunteer groups. The international center also joins the host school to compete in inter-grade sports activities and drama, cultural, and debate competitions.
Although it is considered small by Chinese standards, Ningbo has all the shopping and leisure facilities typical of a large city.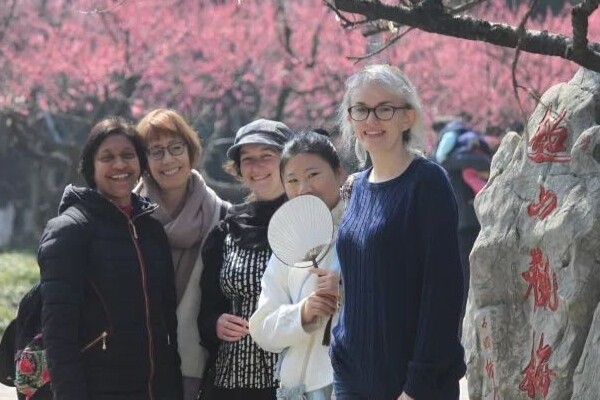 "Lessons here are vivid and impressive. Teachers never discourage us, which persuades us to be brave enough to try to express ourselves. I hope to speak English as fluently as our teachers. I really love all of my teachers, they are all people of virtue, who set good examples for the students. I aspire to study art and design and contribute creativity and beauty to the world. Hopefully I can study at a university filled with artistic beauty."
–

Eva, student
"The children are a real pleasure to teach. They are focused, driven and enthusiastic. There are many opportunities to pursue personal areas of interest. In my case, I am responsible for running the center's drama club as a weekly extracurricular activity. Working in China has been a fantastic experience. It is a fascinating country, with lots of culture and offers plenty of opportunities to travel to other parts of Asia."
–

Jenna, teacher
More about the partner school
Ningbo Xiaoshi High School is one of the best "key" schools in Zhejiang province. It is often listed as one of the top 100 most famous schools in China. 
The school is known for its high standards in the teaching of both science and art and takes great pride in having outstanding teaching staff, many of whom have won special titles from national, provincial and municipal government.
Xiaoshi students are known for being competent and having great potential for further development.
The school campus is large and consists of a classroom building complex, an administrative building, a laboratory, an audio-visual center, a library and several dormitory buildings with three cafeterias. The library has more than 110,000 books, while a well-equipped gymnasium stands in the southwest of the campus. There is a standard 400-meter sports field with track, and several tennis, basketball, and volleyball courts.
The teaching facilities are constantly being improved and the school is on its way to being a modern, first-class school.