On Sept. 18 and 19, 2018 Dipont Education celebrated the official opening of its two new Sino-British independent schools in Hangzhou and Wuxi, China.
The occasion was marked by two formal ceremonies, one at each campus. The events brought together the school partners, including the UK's King's College School, Wimbledon, leaders at the new schools and representatives of local government.
The new schools, RDFZ King's College School Hangzhou and Nanwai King's College School Wuxi, have been founded through partnership between Dipont and King's College School. Chinese school partners are The High School Affiliated to Renmin University and Nanjing Foreign Languages School respectively.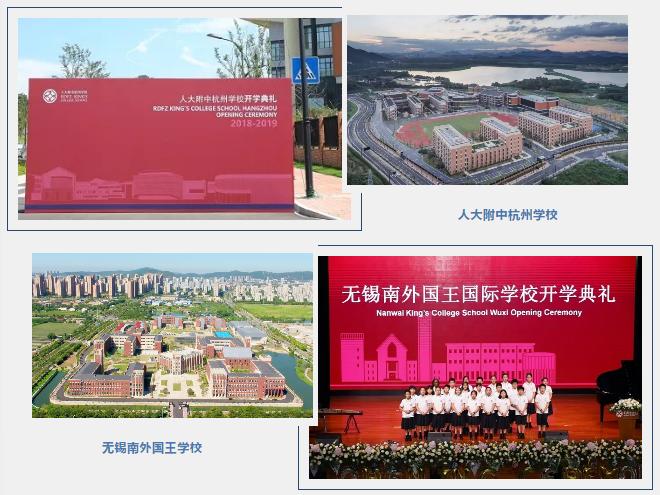 The formal openings of the two schools mark Dipont Education's crossover from education management group to education provider. The company is focused on exploring new models for the integration of Chinese and international education. The schools' curriculum models set a precedent for the management of new schools in China, with government, Chinese and British schools, private education providers working together to develop new institutions.
Nearly 1,500 new students and 400 Chinese and international staff joined the two schools at the start of the school year in early September.
RDFZ King's College School Hangzhou
RDFZ King's College School Hangzhou held its opening ceremony on Sept. 18 at its campus in the Yuhang district of Hangzhou. Bruce Thompson, executive principal of the school, welcomed students and guests on behalf of the school and introduced the school's concept, characteristics and vision.


Two student representatives, Yiteng Xu and Jiayi He, gave a speech in both Chinese and English, calling RDFZ King's College School Hangzhou their "ideal school". They thanked the school for the excellent resources provided to each student and said they were proud to be among the first students admitted.
Hailing Wang, Honorary Principal at the school, thanked the various partners for their contributions and encouraged the new students to "work hard, broaden your horizons, develop your character and cultivate your inquiring, independent and critical thinking skills."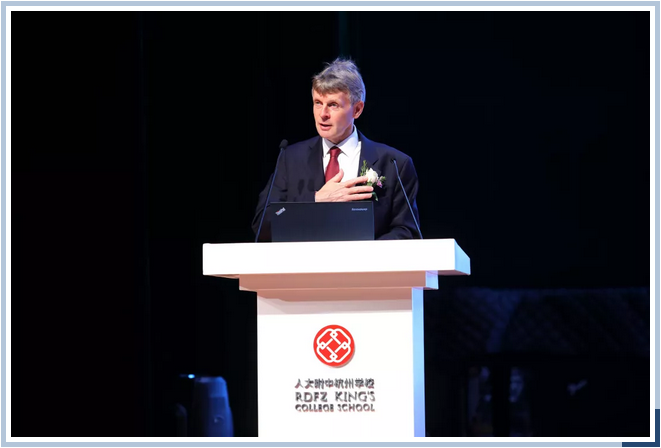 Andrew Halls, Headmaster at King's College School in the UK, traveled specially to China to attend the opening ceremonies. In his speech, he spoke of his confidence and hope in the future development of the schools, adding that King's 200-year history and special characteristics were incorporated in the schools' curricula.
Mr. Halls also spoke highly of Dipont: "From our first meeting in 2014, everyone from Dipont was very welcoming, open and trusting and there was a genuine interest in finding out what makes the education at King's so unique. This wonderful new school would not have been possible without the vision of one man. Benson's [Zhang, Dipont CEO] drive to provide a different form of education for students has been fundamental to this project."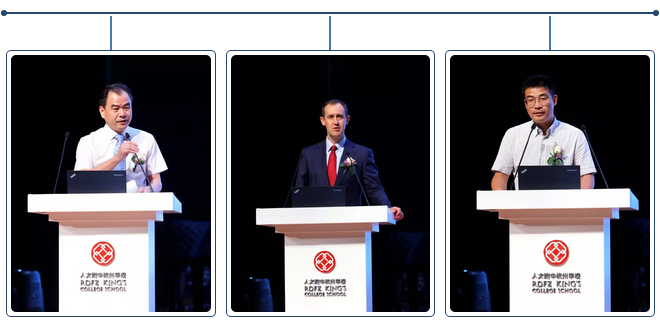 Other speakers at the ceremony included Lianming Yang, Deputy Principal at RDFZ United Schools, Tony Clemson, Deputy Consul General in Shanghai, and Jianhua Zhou, Deputy District Head, Yuhang District Government, who all spoke highly of the school's establishment (pictured above, left to right).
Representatives from government went on a tour of the school.
Nanwai King's College School Wuxi
The morning of Sept. 19 saw the opening ceremony for Nanwai King's College School Wuxi, where guests wrote messages of congratulations on a giant poster board.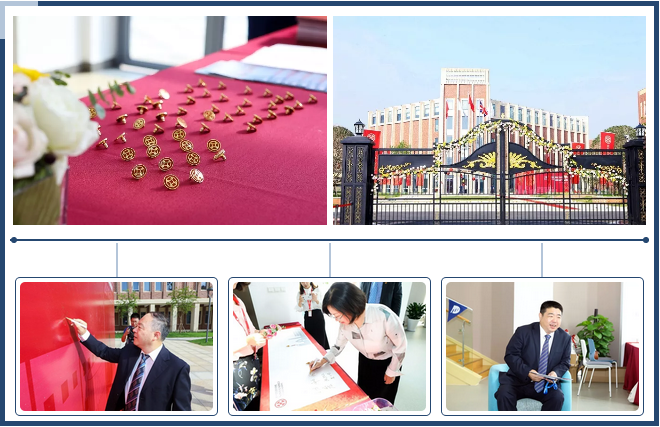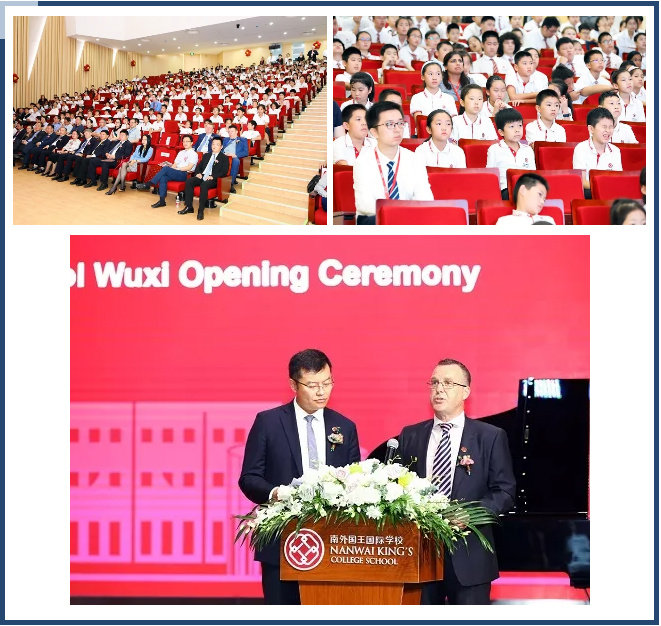 Executive principal Craig Monaghan gave a brief introduction to the school, saying that staff were committed to working with families and the local community to provide high-quality academic courses, rich extracurricular activities and a robust student care system in order to support student growth and all-round development.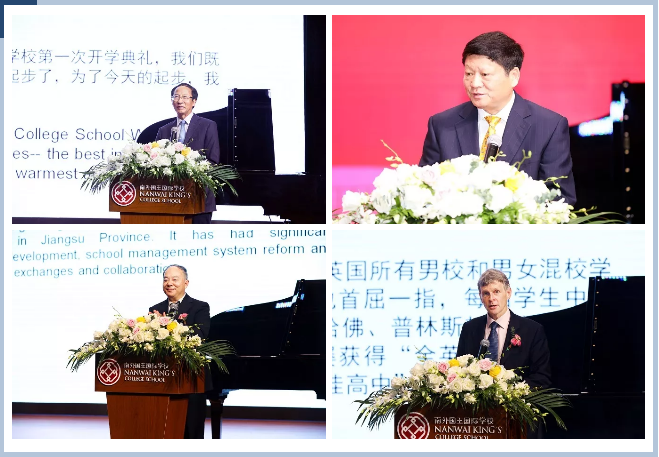 The school's other principals, Moade Shen and Zhengjing Dong, both spoke of their earnest anticipation of the start of the new school year. As key figures in the school's partnership, Andrew Halls, and Zou Zheng, Principal of Nanjing Foreign Languages School, expressed their keen support for the school (pictured above, clockwise from top left).

Finally, representatives from local government, including Xia Liu (above, right), Wuxi Vice Mayor, expressed their delight in the new school. Yang Jianping, from the Management Committee of the Economic Development District in Wuxi, added that the school was a significant step in developing international education in Wuxi: "In recent years, a batch of high-end education institutions…have been constructed and opened in our district. Today the latest one joins their ranks, one that is bound to integrate the best of western and eastern education…It is safe to say that, with the backing of [its two partner] schools, Nanwai King's College School Wuxi is set to grow exponentially and bear wonderful fruit," he said.

During the ceremony, several students gave wonderful musical performances, while the event came to a close with the unveiling of a ceremonial plague, marking the significant date.